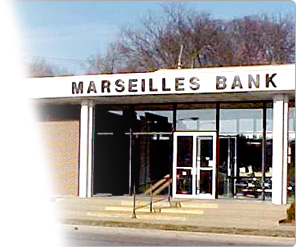 Marseilles Bank's commitment during COVID-19 outbreak
The health and safety of our community, customers and staff is our highest priority. In response to the concerns around coronavirus, COVID-19, Marseilles Bank will take the following action to ensure the safety of our customers and staff. Beginning Friday, March 20, 2020, we will temporarily suspend our lobby access.  We will resume normal lobby hours as soon as it is deemed safe by our public health officials.
During this time, we will remain available by phone and appointment to meet the needs of our customers.  Appointments with our Loan Officers will be handled on an individual basis. Customers will also continue to have access to their Safety Deposit Boxes by appointment.
We continue to offer many options to serve your banking needs:
Online and Mobile Banking
These services will be available to you 24/7 from the safety of your own home. You will have access to check your balances, transfer funds and make payments. Through our mobile banking app, you will be able to deposit checks. Please contact us if you need access to online banking.
Drive Thru and Night Deposit Service
Our drive thru service will remain open during regular hours and will offer most banking services.
ATM
You will have 24-hour access to our ATM located at our drive thru facility, 508 Roath Street, Marseilles, IL.
Automated Telephone Banking
Our automated telephone banking system will continue to be available.  You can access this by dialing 1-866-234-2120.
Please feel free to contact us by telephone at 815-795-3900

FINANCIAL CALCULATORS
Use our awesome web tools to calculate your own loan payments AND investment projections!
Click Here