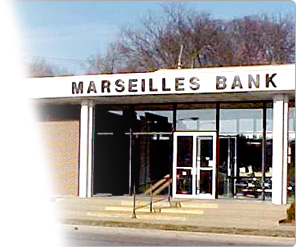 Welcome to Marseilles Bank
The Marseilles Bank is a community bank that takes pride in its commitment to Marseilles and the surrounding area.  An area, we believe, that has a bright future and abundant prospects for both young and old. We intend on being an
integral part of that future, offering a wide range of banking services that are priced right, convenient and innovative. The staff is trained to focus on our customers in a professional and dignified manner. The many ingredients that comprise this institution qualify us to be called "The Extraordinary Bank."
Whether you are new to the area, or new to Marseilles Bank, or even a long-time customer, please drop by and pay us a visit!

FINANCIAL CALCULATORS
Use our awesome web tools to calculate your own loan payments AND investment projections!
Click Here